Whether you're automating an existing gate, or installing something new, we're ready to help.
The front of your home is important. An installation of electric gates not only looks good, but offers an extra layer of security for your home and your family.

We offer bespoke electric gate installation for homes across the South, tailored to your needs and surroundings to ensure security, ease of access when required and a design you'll love.

Any electric gate installation we undertake will be safe and reliable, guaranteed. It's our priority that our electric gate installers cause minimal disruption to your home during installation, and get your new security gates installed as efficiently as possible.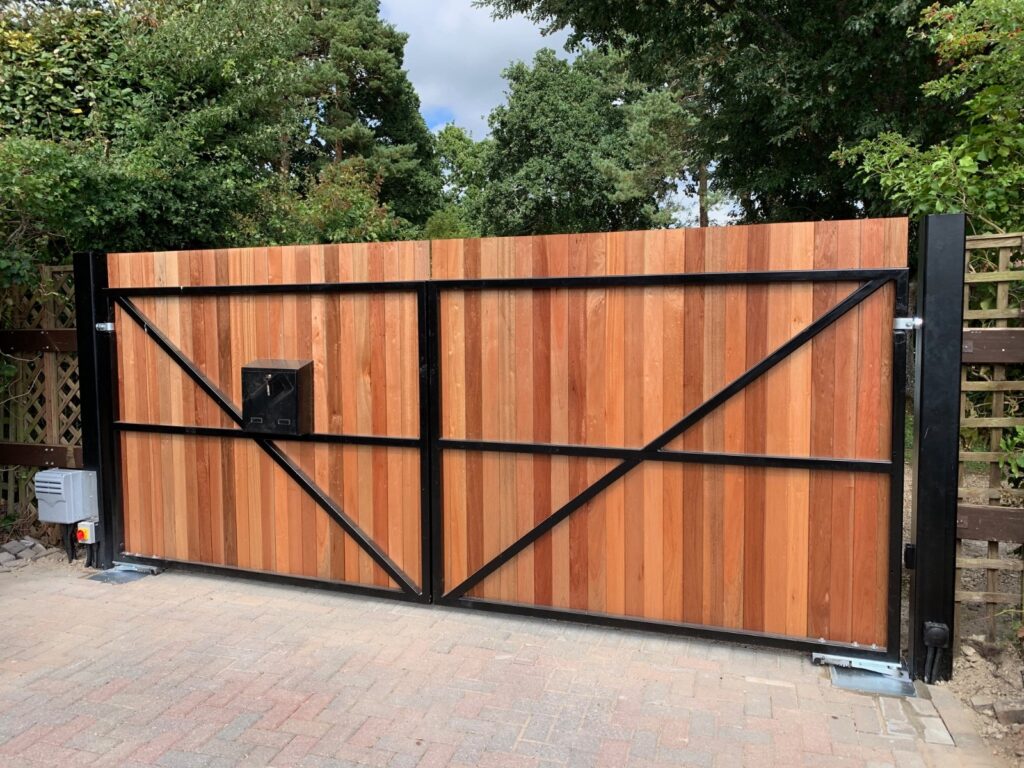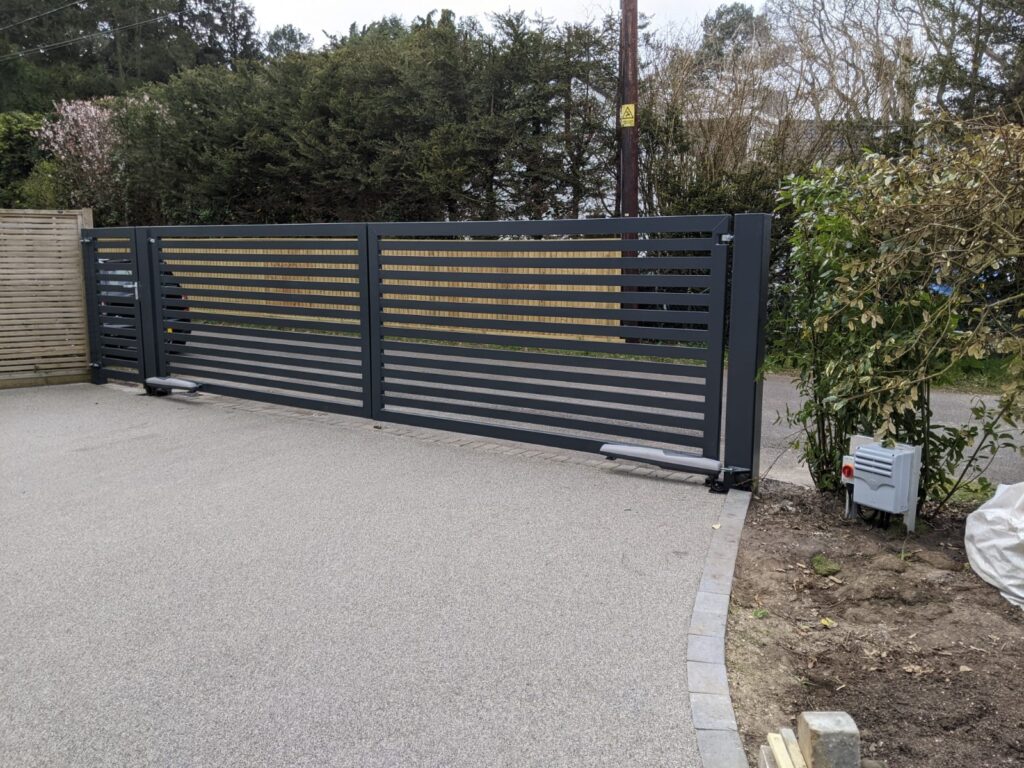 Why choose electric gates?
Automatic Number Plate Recognition
From anywhere in the world
Garage door key integration
Add style to the front of your home and get protection as an added bonus. Sliding electric gates can be installed with a number of designs, to suit your home and your needs.

We use the best in class, Came brand electrical sliding gates for our installs. As Came Safe approved installers, our team always fit electric gates to all relevant UK and European laws.
Installed on level ground, electric sliding gates are best suited to short, wide driveways.
Electric gates for driveways
No matter the size of your property or driveway, we can build a tailored design to install your electric gates or automate existing gates.

Utilising the latest technology, your driveway electric gates can use ANPR technology, dial to open or integrate with your garage door key to let only your selected vehicles into your home.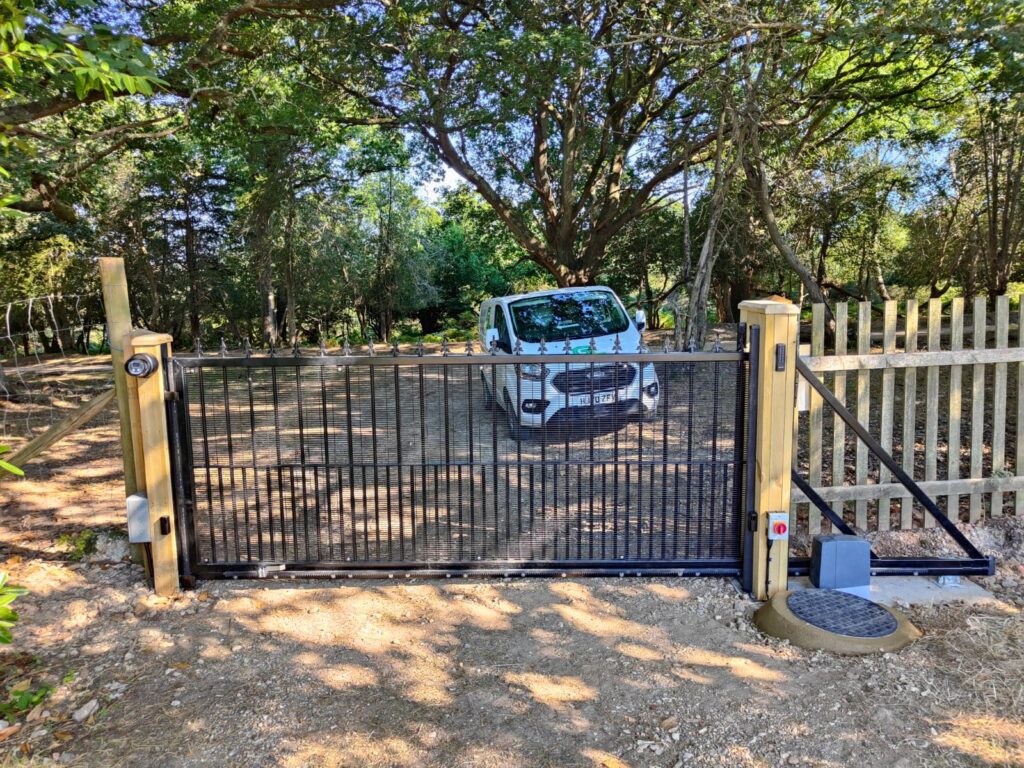 It's not just metal gates we provide – wooden electric gates can also be installed by our team, and offer a beautiful design feature for modern or traditional gardens.

Wooden electric gates combine modern technology with timeless style that gives a more natural feel to your new security gate installation. Whilst wooden electric gates may need more maintenance than metal electric gates, we still install a large number of these gates every year.

To find out what style of electric gates may suit your home best, talk to our experts.
Metal electric gates provide a long-lasting solution for those who want to invest in their home's security. With a longer lifetime than wooden gates, metal electric gates remain a popular choice for homeowners who value security and reliability. 
With our very own welder Alan, we're able to create bespoke electric gates for our clients. We can build custom styles to match your home, or something new entirely. Every gate we install is galvanised and powder coated to ensure they have the best chance at surviving the elements and minimising maintenance.
Your electric gate questions answered
To help you get up to speed with everything electric gates, we've put to together a selection of helpful videos.
What do electric gates cost?
Looking for an idea of what installing an electric gate might cost? In this video we talk you
How do you control an electric gate?
Looking for some insight into the world of electric gate automation? Our Director Nick has all the details in this helpful video.
What maintenance is needed for an electric gate?
Electric gates need to be regularly maintained and well looked after to avoid issues. In this video we explain how to maintain your electric gates.
Electric gate repairs and maintenance
Electric gates need to be regularly maintained and well looked after to avoid issues. Our Service Plans give you the ultimate peace of mind. In the unlikely event something goes wrong after our install, we'll get it sorted fast.
Find a Service Plan that's right for you
Annual Gate Service
Safety Assessment
Remote Monitoring
10% Discout off list price for all parts
10% Discount on Labour
Annual Gate Service
Safety Assessment
Priority Call Out
Remote Monitoring
Unlimited Remote Support
Free App Control
15% Discount off list price for all parts
15% Discount on Labour
Annual Gate Service
Safety Assessment
Priority Call Out
Remote Monitoring
Unlimited Remote Support
Free App Control
All Parts Included
All Labour Included
We have found that many individuals and businesses purchase high quality equipment but overlook the importance of regular maintenance. Even top quality equipment requires servicing. By investing in a Service Plan, you will be much less likely to be faced with the inconvenience that faults bring and will reap the benefits of a system that maintains optimum performance for longer.
Why choose Green Light Electrical?
We understand that the security of your property is key. Giving clients comfort and peace of mind is what we do best, installing electric gates that protect and secure your home.
Operating for over 30 years, we've partnered our extensive experience with a commitment to modern technology to offer bespoke security solutions for clients' homes across the UK.
Whether you know what you need, or just want to talk to an expert, our team are on hand to help you make your home more secure.
Read our customer feedback
Don't just take our word for it, read through our customer reviews.
This is a Testimonial for Nick Green for the work he did on my offices, and the support that he has given some of my clients over the years. I have struggled with tradesman over the year and been let down on many occasions. It has been so refreshing to work with Nick and his team and know that when they say they are going to do something they book it in and it gets done. They give a fixed price and will always communicate if things are not going to plan. Would thoroughly recommend Nick and the team at GLE
Professional work and great attitude.
Reliable and professional as ever. Thanks for great advice and a great job.
Excellent work and service. Very helpful when we had an issue caused by our building company (not GLE). Will certainly use again for future electrical work.
Excellent service from this company. Initially used as an electrical emergency during the Christmas period, arrived very promptly even though they should've been closed, as all other engineers were. I am now using them to fix my electric gates. All staff I have been in contact with ( Office Manager, electrical engineers and the 'boss') have been extremely polite and very efficient. Electric gates now fixed. They continue to offer a fantastic service with very friendly and efficient staff. I would highly recommend them for any electrical job.
Paul was an good worker, punctual and his work was an excellent standard
A lovely family team with high standards and a great customer service ethic, high on safety and extremely reliable. I would recommend to my grandmother (that's how great I think they are).
Green Light Electrical came to the Lymington Save The Children shop to fit a new heater switch for the front door heater. Even though the work was carried out during shop opening times, it was done very professionally and without disruption to the customers or store staff. The site was left cleaner than when they arrived! Would highly recommend.
Not sure where to start with electric gates? We can help. Talk to an expert from our team and arrange a consultation for a free, no-obligation quote for your home.