Lead the charge, and embrace electric vehicles
Business Electric Vehicle Chargers
The business benefits of choosing electric vehicles are well known – and whilst they may save you money as an employer, you may want to invest in business EV charging points for your staff.
Our team are experienced commercial EV charging point installers who create bespoke workplace charging systems to best suit the needs of you and your team.


The benefits of EV chargers for businesses
Depending on your business, your commercial EV charging stations can be useful for a handful of different reasons. But first and foremost, they offer you and your team charge for whilst you work. As a benefit for your staff, workplace EV chargers are a great way to retain staff and offer an extra benefit to their employment
To reach the UK's 2050 net-zero target, a substantial cross-industry effort is essential to encourage widespread EV adoption. One of the main benefits of EV charging for businesses is that it provides a practical and visible demonstration of your organisation's commitment to sustainability and values.
If you're a shop that benefits from having its own car park, installing commercial EV charging stations can help engage existing customers, generate new customers and keep them coming back to your business.
How commercial EV charging stations work
EV chargers for businesses are simple to operate and offer big benefits. Our team have installed countless EV charging points across the county, from single-point chargers to multiple chargers in one location.
We install a charging point that is connected directly to the national grid, or able to utilise your own generated energy. Then, depending on your needs, we can set up the charger to be available 24/7, or via PIN access.

We install both Zappi and Simpson & Partners EV charging ports, which our team have tried and tested, ensuring they're the best the market has to offer.
The Zappi EV charger is a versatile smart charger that can utilise grid, solar, or wind power for efficient electric vehicle charging. Users can control access via a pin code, choose from fast, eco, or eco+ charging modes and track usage through a digital log. It's especially beneficial for those with solar panels to maximise energy savings.
Simpson & Partners offers affordable and quality EV charging solutions, with various designs to match your business premises.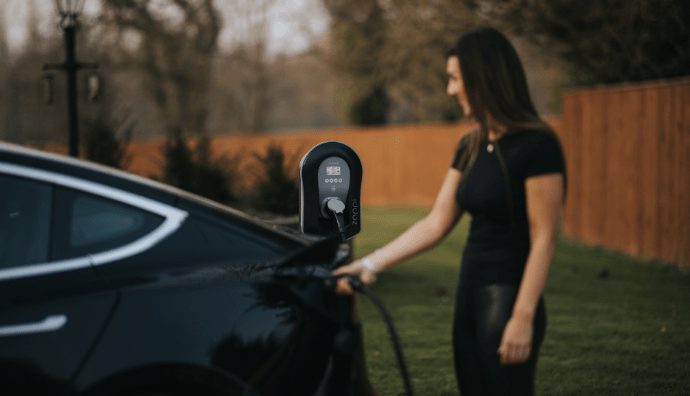 Why choose Green Light Electrical?
As EV users ourselves, we understand the day-to-day value of a reliable EV charging point. We also understand the headache of an unreliable EV charging point.
We want to help our clients make decisions that help the environment and their wallets. EV home chargers can provide cheaper mileage and play an integral part in reducing carbon output from UK households and vehicles.
We've stayed informed on UK regulations and ensure that every EV charging point installation we undertake is not only safe and reliable but compliant with UK legislation.
Read our customer feedback
Don't just take our word for it, read through our customer reviews.
This is a Testimonial for Nick Green for the work he did on my offices, and the support that he has given some of my clients over the years. I have struggled with tradesman over the year and been let down on many occasions. It has been so refreshing to work with Nick and his team and know that when they say they are going to do something they book it in and it gets done. They give a fixed price and will always communicate if things are not going to plan. Would thoroughly recommend Nick and the team at GLE
Professional work and great attitude.
Reliable and professional as ever. Thanks for great advice and a great job.
Excellent work and service. Very helpful when we had an issue caused by our building company (not GLE). Will certainly use again for future electrical work.
Excellent service from this company. Initially used as an electrical emergency during the Christmas period, arrived very promptly even though they should've been closed, as all other engineers were. I am now using them to fix my electric gates. All staff I have been in contact with ( Office Manager, electrical engineers and the 'boss') have been extremely polite and very efficient. Electric gates now fixed. They continue to offer a fantastic service with very friendly and efficient staff. I would highly recommend them for any electrical job.
Paul was an good worker, punctual and his work was an excellent standard
A lovely family team with high standards and a great customer service ethic, high on safety and extremely reliable. I would recommend to my grandmother (that's how great I think they are).
Green Light Electrical came to the Lymington Save The Children shop to fit a new heater switch for the front door heater. Even though the work was carried out during shop opening times, it was done very professionally and without disruption to the customers or store staff. The site was left cleaner than when they arrived! Would highly recommend.
Ask us about commercial EV charging ports
To discover your options for business EV charging ports, or have a question answered by our experts, give us a call or book a consultation.